Our History
Schooltee is dedicated to providing you with the very best in custom printed sportswear.
We began selling t-shirts to schools in 1988 as a family operation. Since that time we've grown and now reside in our own factory located in the village of Ayr, Ontario.
We are thankful for your continued support over the years and hope to continue supplying quality wear at fair prices.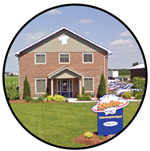 Services
We are very proud to provide you with a range of services

 Screen Printing                                                                                                                                                    We use the most traditional and effective method of cresting t-shirts and pants as example. We use the quality products to ensure the longevity of your garments. Our name is attached to what you order, we want you to look good so we look good. We ensure your satisfaction.

 Custom Clothing                                                                                                                                                             If you are ordering on behalf of your school, company, sports team or yourself and need to customize your clothing with your logo or design - we can help make that happen. We can customize your athletic wear (i.e. jerseys) to corporate wear (i.e. golf shirts). Everything that you order is customized just for you; so you can add names and numbers too. We aim to please.

 Embroidery                                                                                                                                                                  If you want embroidery instead of, or in addition to a screen printed design, we can make it happen.

 Artwork & Design                                                                                                                                                        We have an awesome team of in-house graphic designers. They will help you create a design from scratch or help make your already existing artwork or logo to become print ready.